Brought to you by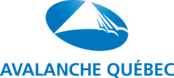 Avalanche Bulletin - 2022-01-29
The long-awaited snow should begin on Saturday afternoon, albeit with a lot of wind.
Areas concerned: Mont Albert, Mont Ernest-Laforce, mont Hog's Back, Champs-de-Mars, mont Lyall, mont Vallières-de-Saint-Réal, mont Blanche-Lamontagne et Mines-Madeleine
Issued on: 2022-01-28 @ 18:00, Valid until: 2022-01-29 @ 18:00
| | | | |
| --- | --- | --- | --- |
| Danger ratings | Saturday, Jan 29 | Sunday, Jan 30 | Monday, Jan 31 |
| Alpine | 2 - Moderate | 3 - Considerable | 2 - Moderate |
| Treeline | 2 - Moderate | 3 - Considerable | 2 - Moderate |
| Below Treeline | 1 - Low | 2 - Moderate | 2 - Moderate |
Travel advice :
Be careful with wind loaded pockets, especially near ridge crests and roll-overs.
Avalanche problem #1 : Wind Slab
What Elevation?
Which Slopes?
Chances of Avalanches?
Expected Size?

By Saturday afternoon, the extreme northeast wind is expected to move snow available for transport in addition to what is expected with the beginning of the storm.
Avalanche Summary
No new avalanche activity was reported or observed recently. Thanks for sharing your observations at info@avalanchequebec.ca, on the Avalanche Canada's Mountain Information Network or with this
Snowpack Summary
Due to the strong to extreme winds of the last weeks and lack of new snow, the alpine and treeline snowpack is highly variable. Small wind slabs may be present in isolated areas but the snow is usually very hardened. Rock and ice are on the surface in exposed areas. Below treeline, the surface is powdery in rare untracked areas.
The persistent weak layer formed with the December 26th surface hoar was affected by wind and skiers in the alpine. In some specific area at treeline, it may be dormant.
Weather Summary
Tonight and overnight: Clearing. Low -25. Light northerly wind.
Saturday: Clearing. 8 to 12 cm of snow starting in the afternoon. High -19. Light northeast wind increasing to extreme in the afternoon.
Sunday: Cloudy. 5 to 10 cm of snow. High -19. Extreme north wind.
Monday: Partly cloudy. High -19. Moderate wind from the west.
For more details, check out the Chic-Chocs alpine weather forecast of January 28th.
Confidence - Moderate
Uncertainty is due to the timing of the incoming weather system.
Forecast snowfall amounts are uncertain.